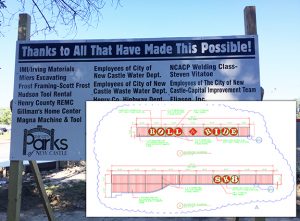 Magna does its part to support New Castle Skate Park
At Magna Machine and Tool, we feel it is important to give back to our community, especially when it provides healthy entertainment options for your youth.
The latest opportunity that was presented to us was for the new impressive skate park that just celebrated its Grand Opening in August. This park, the "Sk8 Park" was in need of permanent signage, and Magna along with Alro Steel Corporation and Dawson Sheet Metal made sure that this happened.
"Thank you so much for everything Magna has done on the Sk8 Park. This community is so blessed to have the support of Magna and other businesses to accomplish our beautiful skate park." Wrote Pat Broyles, New Castle Park Board President.
According to specifications, Magna Machine and Tool fabricated the signage which will serve this attraction, and the community at large, for years to come.
"These opportunities give us an opportunity to give back to the New Castle community. And they give us the opportunity to assist in providing excellent options for your youth. There is nothing better than that and Magna is thankful that we could help see this through," stated Kirk Robbins, President of Magna Machine and Tool.
The new park is nearly 13,000 square feet, and with its versatile design is unlike anything in Indiana. With 2 mosaics, and a decorative railing, the park pays homage to the artist, Robert Indiana – a New Castle native.
Magna Machine and Tool is East-Central Indiana's leader specializing in contract machining and assembly services for Automotive, Medical and Glass industries to name a few. With years of experience and a highly skilled workforce, our services range from Design/Build of custom machinery to turnkey production of castings; all backed by a reputation for surpassing customer requirements and exceeding expectations.