History
Magna Machine & Tool Company Inc. opened its door for business on September 1, 1975 with owners Marion Shore and Richard (Dick) Culy. Previously, Shore was an owner of Muncie Tool and Die in Losantville, Indiana where Culy was the shop foreman. Muncie Tool and Die ceased operations in July, 1975 and Magna was formed. They hired their first full-time employee, Eugene Weaver, in the spring of 1976.
Magna's growth for the first twenty years was slow but steady. During this period, a strong and loyal customer base was established.
In June 1990, Eugene Weaver and Mike Broyles became partners. 1995 was a big year for Magna. Marion, the founding father, retired, ISO 9001 Certification was achieved and Magna was one of the first five companies to be awarded the Indiana Business Modernization and Technology Award for quality and customer service. When Dick retired in 2000, he left Magna in the capable hands of Gene, Mike, and a great group of employees.
In June of 2005, Eugene and Mike asked long-time employees Kirk Robbins, Bruce Schmidt, and Doug Hinshaw to become partners in Magna Machine & Tool. By doing this, it secured Magna's future and longevity for both their employees and customers by establishing a knowledgeable, stable and long-term management team. In December 2011, Eugene and Mike both retired and Kirk Robbins, Bruce Schmidt, and Doug Hinshaw became owners of Magna Machine & Tool.
Magna's years of experience and old-fashioned belief in honest work guarantee that our customers' needs are met. We have long recognized the importance of keeping pace with changing technologies and methods. In fact, Magna was one of the first tool shops in Indiana to become ISO certified, and ever since, we have always taken pride in being leaders, not a followers.
Magna Machine & Tool commits itself to the highest quality attainable. We are constantly improving our products and services to meet our customers' most stringent needs. At Magna, the commitment to quality is not a philosophy but a way of life in everything we do. From the initial paperwork and design process to production – our policy is defect prevention.
Magna Machine & Tool continues to maintain a degree of responsibility for its products that is unparalleled by others. All of Magna Machine & Tool's parts are produced to the fullest customer requirement–with no exceptions.
Vision
We will excel at being the premier job shop in the East Central Indiana region. Utilizing the equipment, tools and the knowledge of our people, we will meet and exceed customer expectations by executing projects on-time with unparalleled quality. Our commitment is to continually invest in capital, technology, marketing and human resources to stay up-to-date in our industry with the goal of always remaining a premier job shop.
Values
Quality: Quality comes first! To achieve customer satisfaction, the quality of our people and services must be our number one priority.
People: Our people are our source of strength! They provide our vitality, intelligence and good reputation. Our products are only as good as our people.
Products: As our products are viewed, so are we viewed! A quality-assured final product is the fruit of our labor. It should be the best it can be. And at Magna, it will be!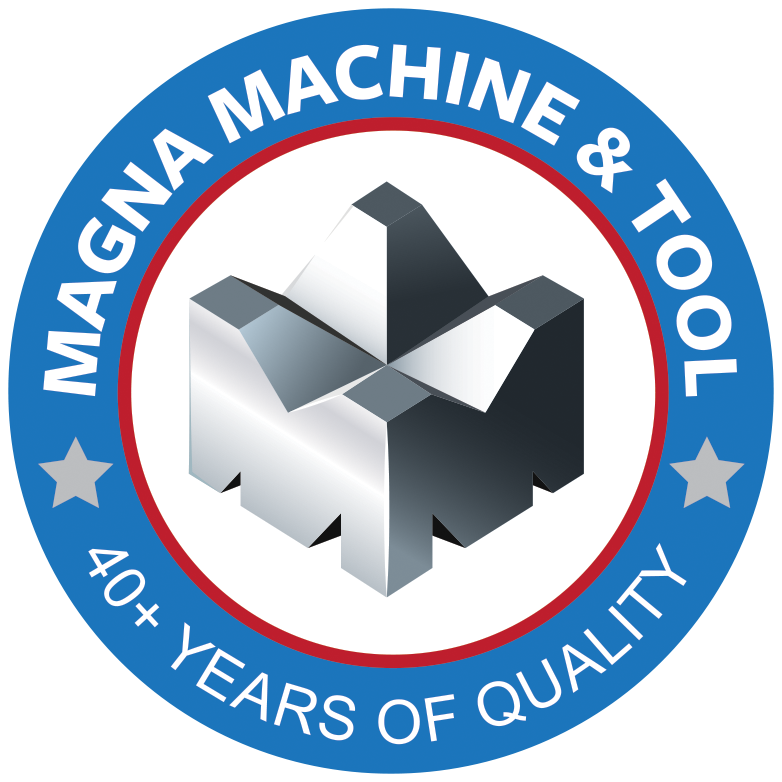 Leadership/Team
In 2011, key long-time employees Kirk Robbins, Bruce Schmidt and Doug Hinshaw became owners of Magna Machine & Tool. Today they are part of a team of 43 employees that offer a combined 593 years of experience. Additionally, 50% of the current staff has been with Magna for more than 10 years.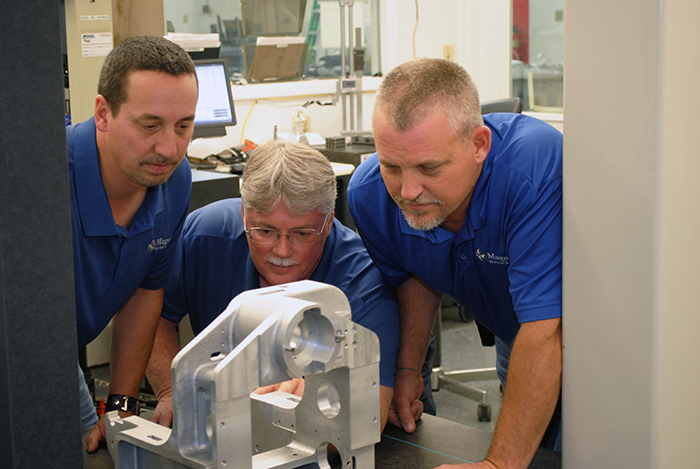 Facility
Through the years, the Magna Machine and Tool facility has grown with our business, and the demands of our customers. All our our work happens in New Castle, Indiana in our 36,490 square foot facility.
Administrative Offices make up 3,560 square feet of this with Manufacturing (includes climate-controlled and non-climate-controlled Equipment Build space, Machining space and separate Assembly Area) totals 31,560 square feet. 750 square feet is dedicated to Inspection and the remaining 630 square feet houses our Engineering department.