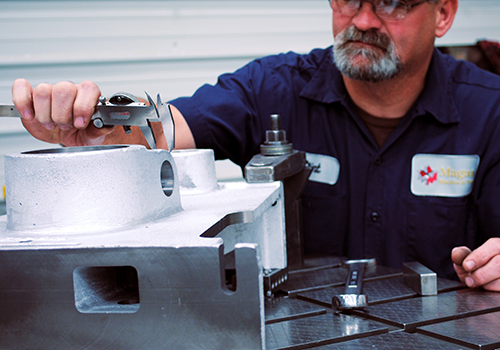 Magna Machine & Tool Company Inc. was formed in September 1975 when Marion Shore and Dick Culy decided to partner with each other and start a tool shop. They hired their first full-time employee, Eugene Weaver, later that spring.
In June 1990, Eugene Weaver and Mike Broyles became partners. Marion retired in 1995, the same year Magna received its ISO 9001 Certification. Magna was one of the first five companies in Indiana to be awarded the Indiana Business Modernization and Technology Award for quality and customer service. When Dick retired in 2000, he left Magna in the capable hands of Gene, Mike, and a great group of employees.
In June of 2005, Eugene and Mike asked long-time employees Kirk Robbins, Bruce Schmidt, and Doug Hinshaw to become partners in Magna Machine & Tool. By doing this Magna will be providing both their employees and customers with a long term and stable management group. In December 2011, Eugene and Mike both retired and Kirk Robbins, Bruce Schmidt, and Doug Hinshaw became owners of Magna Machine & Tool.
Magna's years of experience and old-fashioned belief in honest work guarantee that our customers' needs are met. We have long recognized the need to keep pace with changing technologies and methods. In fact, Magna was one of the first tool shops in Indiana to become ISO certified. We take pride in being a leader, not a follower.
Magna Machine & Tool commits itself to the highest quality attainable. We are constantly improving our products and services to meet our customers' most stringent needs. At Magna, the commitment to quality is not a philosophy but a way of life in everything we do. From the initial paperwork and design process to production, our policy is defect prevention.
Magna Machine & Tool continues to maintain a degree of responsibility for its products that is unparalleled by others. All of Magna Machine & Tool's parts are produced to the fullest customer requirement–with no exceptions.
Making quality happen! 
How do we successfully attain this high-quality production? We work from three basic values.
Quality comes first! To achieve customer satisfaction, the quality of our people and services must be our number one priority.
Our people are our source of strength! They provide our vitality, intelligence and good reputation. Our products are only as good as our people.
As our products are viewed, so are we viewed! A quality-assured final product is the fruit of our labor. It should be the best it can be. And at Magna, it will be!